Six months after splitting with
Michael Clarke
,
Lara Bingle
is rebuilding her career and leading a quieter life.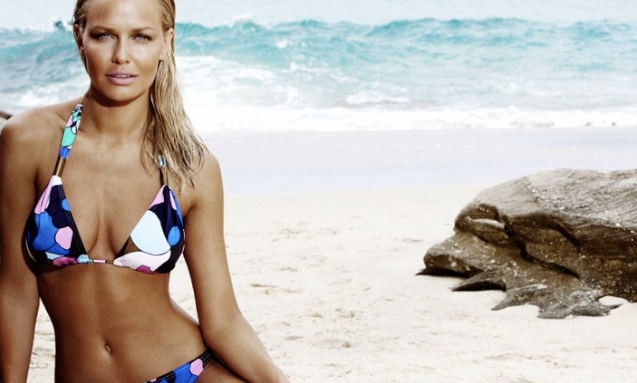 While Father's Day was a time of reflection for model Lara Bingle, who lost her dad, Graham, to cancer in 2008, an image splashed on the front page of a newspaper that Sunday lifted her spirits. "I loved seeing Michael photographed with his dad," Bingle tells WHO of her ex fiancé, Australian cricket vice-captain Michael Clarke. "It was so great to see in that photo why Michael's such a champion. He has taught me so much. He's cheeky like his dad, but also gutsy, too. It made me smile."
Having weathered an intense six months in which her two-year engagement to Clarke disintegrated amid a media storm and criticised representation by agent
Max Markson
, Bingle, 23, is these days feeling more inclined to smile. Launching back into the business of being beautiful—the craft she has honed since beginning her modelling career as a teenager—the size-8 glamazon's current assignment is continuing her role as the face of swimwear brand
Speedo
. "Lara is at her best in front of a camera," says Speedo marketing manager Tiffany Scott, who oversaw the upcoming campaign. "On a shoot day we often work 10 to 12 hours in the sun, which can be quite tiring, but Lara embraces every minute of it and works tirelessly through every shot."
Work has become a serious focus for the reformed red-carpet regular. Having lost "so many deals" in the wake of the messy March split with Clarke, 29 — including the couple's joint endorsement of energy drink Synergy—Bingle is thrilled to have kept the starring role she has held with Speedo since 2007.
"This is my favourite shoot with Speedo so far," says the bikini devotee, who was raised in the southern Sydney beachside suburb of Cronulla. "Whether I am working in front of the camera, or just developing my own designs, being part of the industry makes you strive for higher standards."
Yet at the peak of her famed coupling with Clarke, Bingle, who drove a $250,000 Aston Martin and lived in the Test cricketer's $6.5 million Bondi penthouse, seemed more focused on striving for top It-girl status. While she was regularly photographed beaming in Louis Vuitton and other designer labels at A-list events, these days "she's not on the scene at all," one Sydney socialite confirms. "She's trying to keep a low profile — no-one has seen her out for ages."
Having traded the flashy shores of Bondi for her mum Sharon's comfortable Cronulla home, Bingle is adhering to her declaration that she no longer "wants the limelight." Living with her mum is "wonderful," she says. "Mum always gets a little shy when I say this, but she really is my hero, even in slippers."
While declining to discuss her reported new romance with professional in-line skater Dion Anthony, it is understood Anthony has quickly established a friendship with Sharon Bingle and is a regular visitor to their home. The hirsute skater was seen getting into Bingle's Mini Cooper on Sept. 8.
As for what remains of Bingle's relationship with Clarke, it is still "too soon" for the pair to be friends, says a cricket insider. "From Michael's end a line has been drawn in the sand — they are two different people doing two different things." Despite reports Clarke is dating former Miss Indy model Kyly Boldy, "Kyly and I are friends," he tweeted on Aug. 29.
"Not boyfriend and girlfriend."
Post-Clarke, Bingle seems determined to launch an improved version of herself. Having returned in July from a three-month US trip to "research New York's fashion and modelling industries" (including meeting with top model agency
Elite
), Bingle has signed with celebrity agent
Titus Day
, whose clients include The X Factor's Guy Sebastian.
"Lara is an ambitious and highly motivated girl who is very conscious of her strengths and weaknesses," Day tells WHO. "For someone so young she has been through a huge amount, and has come out the other side of it very media- and business-savvy. She's very much driving everything that is happening in her career."
Interview in this weeks WHO magazine. On sale now!
Source:
Who Magazine
Image Source:
Speedo